6 Signs You Should Consider Becoming a Surgical Technologist
March 27, 2017 at 7:29 pm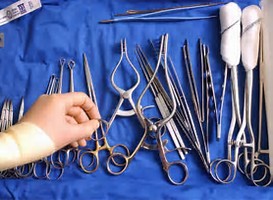 You're considering a career in healthcare and it's no surprise. The field is booming and there are a variety of careers available for all education levels and personality types.
You'd rather not spend several years in school for this new position, which is why becoming a surgical technologist has you intrigued. You could earn your Associate's degree and begin making a difference in as few as 21 months.*
You're also impressed by the faster-than-average growth rate and above-average earning potential. But how do you know if you'll actually be good on the job? Are there certain inherent qualities that lend themselves well to the profession?
We referred to the U.S. Department of Labor and Bureau of Labor Statistics to identify some of the personality traits that many surgical technologists share. If you can relate to these, you may be an ideal candidate for the job.
You should consider working as a surgical technologist if…
1. You have great coordination
As a surgical technologist, you'll assist surgeons, registered nurses, and other surgical personnel in operations. Not only is that a lot of different people to be coordinating and connecting with, but that's also a lot of tools that need to be passed around!
It's important that surgical techs have great coordination and can adjust their movements in relation to others' movements. Accidentally dropping a scalpel into a patient's abdominal cavity would end badly for everyone. Between transporting patients, adjusting lights and equipment and managing a whole host of surgical supplies, good coordination is a must for a successful surgical outcome.
2. You're good with machinery
Speaking of all that surgical equipment, there's a lot of machinery involved in a surgery. Surgical techs often manage electrosurgical or electrocautery equipment, such as argon beam coagulators, spark-gap electrosurgical units, medical staplers and all sorts of other gauges and dials that make a machine run smoothly.
If you've always had a knack for fixing cars or working with computers, you might find yourself right at home in the operating room, running machinery that helps save lives. Surgical techs will also find themselves using basic technology to manage spreadsheets, graphics or photo imaging software, as well as email and office suite software.
3. You're an active listener
Surgical techs need to practice active listening in different types of situations—they may care directly for a patient, or their active listening may come into play in the operating room as they follow the instructions from the head surgeon. Since this role plays a part in managing the outcome of human lives, giving your full attention and taking the time to understand what's needed and when are essential for a successful surgery.
4. You like making improvements and taking action
There's a lot that can go wrong during surgery, so having an awareness of potential problems and striving to make the surgical environment pristine are key. As a surgical tech, you'll certainly help in monitoring the patient, but it's also important that you're monitoring and assessing the operating room, those you're working with and yourself as well.
If you've found that maximizing situations and opportunities for their greatest potential is the way your mind naturally works, you might find a job as a surgical tech right up your alley.
5. You're rather logical
This doesn't mean you don't have emotions, but it does mean that you tend to rely on logic and reasoning to make decisions. By observing and identifying the strengths and weaknesses of certain conclusions, surgical technologists often rely on their knowledge and evaluation to find the best solution for a problem.
You're great at weighing the pros and cons when you come to a fork in the road—why not consider putting that skill to use in the OR?
6. You have excellent fine motor skills
There's a lot of manual dexterity, as well as the proper use of surgical tools and machinery required of a surgical tech. There are assessments that can determine if you have above-average skill in the area of fine motor skills, but you can rest assured that your skill is probably better than most if you have great handwriting, play an instrument or have a lot of grip strength.
In the OR, you'll often find yourself adjusting tools and manipulating objects to achieve the most efficient and best results. A firm, unerring grip is essential to making sure tools stay sterile and machinery is set at the right levels.
Is a career as a surgical tech part of your calling?
If you naturally possess the above qualities, becoming a surgical technologist might be in the cards for you. You're already naturally inclined to thrive—all that's missing are the technical skills to compliment your existing ones.
Learn more about the actual day-to-day duties on the job in our article, Surgical Technologist Duties: A Day in the Life.
Looking for more guidance in your job search? Contact one of our staffing experts today, and we'll work with you to find a new job and meet career goals. We look forward to hearing from you!
By Lauren Elrick
Related