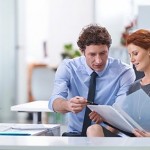 Employers
Find better people faster
When it comes to sourcing talented people for private and public sector organizations, we are the experts. Our extensive experience gives us unique insight into common challenges you may face. This allows us to act as an HR consulting resource as well as a staffing partner. And as a woman-owned firm, we can help you meet your diversity goals.
Learn how the experts at Client Business Services can help you maximize performance, manage risk and improve your hiring results. Schedule a consultation or request an employee.
Temporary. Get fill-ins to cover vacations, leaves of absence or extra help on a project basis. If you are not completely satisfied with our candidate in the first 24 hours, we will cancel the charge and send you a replacement.
Temp-to-perm. Evaluate a candidate at your location before extending an offer, to reduce your hiring risks.
Direct hire. Trust the experts at Client Business Services to source and screen the best talent while you focus on your core responsibilities. Our 3:1 Guarantee speeds your selection process by bringing you the three most highly qualified professionals to choose from.
HR consulting. Schedule a consultation to improve your organization's productivity and efficiency. We offer management, human resource and training services customized to your requirements.