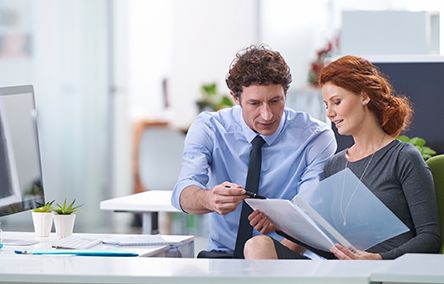 By: Linda Childers
As A Small Business Do You Have A Compensation Strategy?
While many small businesses have a solid business plan in place, they often falter when it comes to implementing a compensation  strategy. That is unfortunate. 
As a result, it's easy to offer too much or too little money to compete for the best talent.  Even worse, some businesses neglect to have a compensation strategy in place that reflects their overall strategy and values.
Katie Busch of HR Communication Consultants in Boynton Beach, Florida, says small businesses need to keep their salary structure current, while also offering a competitive advantage over other small businesses in the same market.
"Many small businesses mistakenly believe that having a compensation program in place isn't something they need to worry about until their company gets much bigger," Busch says. "They often believe having a compensation plan will limit their ability to make good business decisions in regards to employee pay, but often the opposite is true."
To create a comprehensive compensation strategy for your small business, consider the following steps:
Look at the job and its location. Salaries for small businesses are not necessarily based on the same data used by large companies. When determining a job's market value, job location is often as important as the job title.  
The Small Business Administration recommends doing an online search using keywords such as "Administrative assistant, salary range, [your location]" to determine how to better understand the market for particular jobs in your area.
Experts recommend taking it a step further. "Look at where you're competing for talent," says Tim Low, Senior Vice President of Marketing at Payscale.com in Seattle, Wash. "For many positions, especially in technology, companies may be national, rather than regional." 
The takeaway: if you're seeking candidates who live outside of your immediate area, be sure to utilize a salary relocation calculator to help determine fair compensation.
Be transparent about your compensation strategy. In the past many businesses believed that talking about compensation should only be done behind closed doors, but Low says that successful small businesses today believe in an open pay policy  that reveals a compensation strategy that is committed to investing in top talent. 
"Being honest and candid about your compensation practices and how you benchmark salaries can have a positive impact on trust and employee morale," Low says.  
Consider implementing salary ranges. While not all small businesses feel as though they are ready to implement salary ranges, Low says that creating pay ranges can be good for your business. 
"By establishing a salary range, you can show employees where they are starting on the range, and illustrate how they have room to grow," he says. "If an employee is at the top of the salary range, you can talk to them about a growth track, and how they can thrive at your company, perhaps by getting the skills and training needed to be a manager." 
Anticipate employee expectations about raises and bonuses. Low says many small businesses are moving away from annual reviews, preferring instead to offer more frequent feedback. This strategy is particularly important for retaining Millennial employees. 
"Many large companies including IBM, Microsoft and General Electric are leading the trend by replacing annual performance reviews and offering employees more frequent informal reviews, where they can set and update quarterly goals and offer opportunities for individual growth."
At Grady Britton, a creative agency in Portland, Oregon, Paige Campbell, the agency's president and partner, says employees receive quarterly rewards based on performance including a bonus day off or a long leisurely lunch paid for by the company. 
Employees and work teams are also celebrated throughout the year when they have demonstrated superior performance. "If someone has done an outstanding job they may receive a mid-year raise, we won't wait a full year to acknowledge their achievements," Campbell says.
Get creative with rewards. Busch says one of the first rewards she encourages small businesses to implement is a simple thank-you given to an employee who has exceeded expectations. "It's especially important to verbally acknowledge an employee's contributions in a group setting that also serves to demonstrate to other employees your company's expectations."   
At Client Business Services & Associates, we take great pride in helping our clients fill open jobs. If you're looking fill your job orders with great talent,
please contact us today.