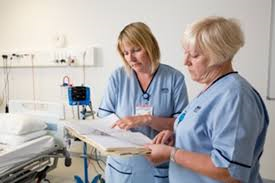 Hate dealing with documents? Disgusted by desks? In these jobs, you'll be working with patients and handing the admin work to someone else.
Lee Price, Monster contributor
If you work in clinical health care, chances are working with patients is your thing, and spending hours filling out forms is not. After all, you signed up to take care of people, not piles of papers.
While you won't be able to avoid documents completely in any health care position, you'd probably rather land a job where you'll be spending most of your day using your hands to treat patients, not to clack on a keyboard. Using data from the U.S. Bureau of Labor Statistics, Monster put together a list of 10 hands-on clinical health care careers that emphasize patient interaction over administrative tasks.
Home health aide
What you'll do: Home health aides bring friendly day-to-day care to patients' homes. At this job, you'll be an important companion for for older adults and people with disabilities or chronic illnesses. Day to day, you'll assist clients with basic tasks like bathing and dressing, checking vital signs and administering medication.
What it pays: $21,920 per year
Find home health aide jobs on Monster.
Dental hygienist
What you'll do: Dental hygienists promote healthy smiles. At this job, you'll help patients develop and maintain good oral health. You'll generally clean patients' teeth during routine visits, protect teeth using sealants and fluoride, take dental X-rays, assess patients' status and report their findings to dentists.
What it pays: $72,330 per year
Find dental hygienist jobs on Monster.
Phlebotomist
What you'll do: Phlebotomists work with blood. As a phlebotomist, you'll draw patients' blood for donations, tests, research and transfusions. You'll work directly with patients in various settings, including hospitals, labs, clinics and blood donation centers.
What it pays: $31,630 per year
Find phlebotomist jobs on Monster.
Orthotist/prosthetist
What you'll do: Orthotists and prosthetists help people deal with various degrees of debilitation. At either job, you'll work with patients who are physically limited after an illness or disability. You'll also be trained to prescribe prosthetics, including artificial limbs and braces, and other rehabilitation tools like cranial helmets for infants.
What it pays: $64,430 per year
Find orthotist and prosthetist jobs on Monster.
Optometrist
What you'll do: As an optometrist, you'll examine and treat patients' eyes to help them see clearly. Additionally, you'll diagnose problems with vision and prescribe glasses and contact lenses. You can work independently or as part of a larger health care organization at this job.
What it pays: $103,900 per year
Find optometrist jobs on Monster.
Occupational therapist
What you'll do: Occupational therapists assist anyone dealing with a "new normal" after a severe injury or illness. At this job, you'll work with patients to help them recover or improve the physical skills they need for daily life and mobility. You'll also prescribe equipment such as walkers and wheelchairs, and teach patients exercises and stretches. Occupational therapists work in schools, hospitals, nursing homes and patients' homes.
What it pays: $80,150 a year
Find occupational therapist jobs on Monster.
Athletic trainer
What you'll do: Athletic trainers provide the motivation and guidance to make bodies stronger, faster and more flexible. At this job, you'll work with clients to create exercise plans, with a focus on preventing and treating exercise-related injuries. You can work in fitness centers, schools, hospitals, and for professional sports teams.
What it pays: $44,670 a year
Find athletic trainer jobs on Monster.
Chiropractor
What you'll do: Chiropractors keep patients happy and healthy by focusing on the spine. As a chiropractor, you'll treat people for issues related to the nerves, bones, muscles, ligaments and tendons. You'll also treat patients with back and neck pain by adjusting and manipulating the spine. You'll conduct X-rays and tests, and advise patients on lifestyle changes that could improve pain levels. Most chiropractors work in private practices.
What it pays: $64,440 a year
Find chiropractor jobs on Monster.
Massage therapist
What you'll do: Massage therapists use their hands to make muscle pain and stiffness fade away. As a massage therapist, you'll treat clients through touch, using massage to relieve stress and heal injuries. Massage therapists can work in a wide variety of settings, including spas, clinics, hotels and doctor's offices.
What it pays: $38,040 a year
Find massage therapist jobs on Monster.
Audiologist
What you'll do: Audiologists are all about the ears. As an audiologist, you'll diagnose hearing and balance issues, prescribe and fit hearing aids, and track patients' progress toward their hearing goals. In addition to working with patients of all ages with hearing loss, some audiologists treat the very young and very old—newborn babies and the elderly.
What it pays: $74,890 a year
Looking for more guidance in your job search? Contact one of our staffing experts today, and we'll work with you to find a new job and meet career goals. We look forward to hearing from you!