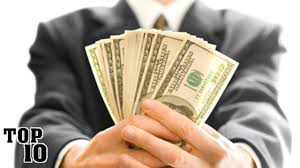 Consider these fields if you want to see financial rewards fast.
Catherine Conlan, Monster Contributing Writer
If you want to start making money right out of school, you have quite a few options. The data wizards at PayScale recently sorted through their database and pulled together a list of the top 10 high-paying entry-level jobs for us.
The pay listed is the median pay for zero to five years of experience for the position.
Nurse anesthetist (CRNA), $136,000
Nurse anesthetists work in surgical settings monitoring patients and administering anesthesia before, during and after surgery.
Petroleum engineer, $101,000
People who work as petroleum engineers research and explore different ways of extracting fossil fuels from the ground to find the most efficient process. Some may be involved in designing or developing tools and techniques for extraction.
Data scientist, IT, $98,2000
Data scientists work in big data — the concept of taking large amounts of data and crunching them in new ways. Advances in software have made it possible to analyze and manage much larger stores of data, and data scientists find ways to work with the data and gain insights.
Psychiatric advanced registered nurse practitioner (ARNP), $91,000
The ARNP is also known as a mental health nurse practitioner. They perform many of the same duties as psychiatrists, including diagnosing and prescribing medication. They may also perform counseling.
Investment banking associate, $89,800
Investment banking associates work at financial services firms and help clients with investment transactions. They often put in long hours.
Quantitative analyst, $86,000
People who work as quantitative analysts study mathematics and statistics to analyze market changes. These positions often require higher degrees.
Orthopedic physician assistant, $86,000
Orthopedic physician assistants have a background in anatomy, pharmacology, clinical diagnosis and other sciences. They may go into subspecialties or surgical work.
Nurse Practitioner (NP), $85,500
Nurse practitioners are registered nurses who have continued on into graduate education. They work with health care teams or on their own to diagnose and treat illnesses. They may order and perform lab tests and X-rays, as well as prescribe medication.
Strategy consultant, $84,800
Strategy consultants may look at an organization's processes and try to identify areas that could be more efficient. They work with business owners and managers to reduce costs, boost revenue, streamline processes and take advantage of market opportunities. They may work as independent consultants, or be employed by organizations.
Software product manager, $83,800
People who work as software product managers oversee product management in a software field. They shepherd projects through from idea to completion, working together with engineers, designers and other teams to get the product done.
Looking for more guidance in your job search? Contact one of our staffing experts today, and we'll work with you to find a new job and meet career goals. We look forward to hearing from you!